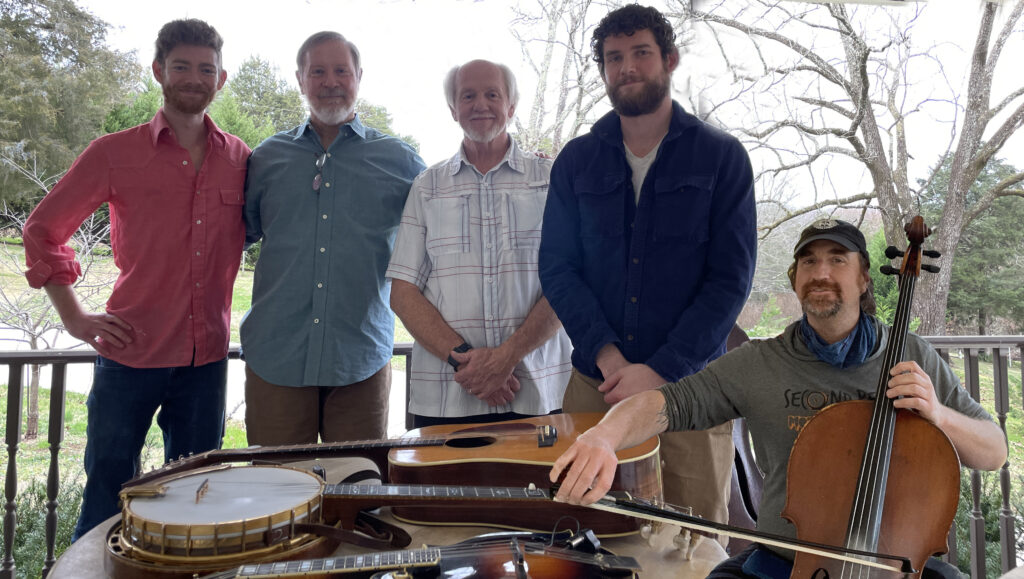 Jack Hatfield is from Knoxville, TN. This group came together to help record Jack's solo banjo album. Jack taught bluegrass instruments at Broadway Sound for seventeen years and performed on WNOX radio's live broadcast Saturday night Barn Dance before moving to Pigeon Forge to perform at Dollywood and Dolly Parton's Dixie Stampede. He performed locally with mandolin great Red Rector and worked with Ava Barber and Dick Dale at their theater in Pigeon Forge. Jack wrote a column for Banjo Newsletter Magazine for thirty years and still contributes occasionally. He has published over twenty-five instruction books for Mel Bay Publications and his own Hatfield Music. He was invited to be on the faculty of the Tennessee Banjo Institute in Lebanon, TN in 1988. This was the very first acoustic music camp, spawning an industry in the bluegrass world. He was bluegrass director of Banjo Newsletter's Maryland Banjo Institute and Chuck Stearman's Traditional Music Camp in Nashville. He has directed the annual SPBGMA (Society for the Preservation of Bluegrass Music of America) banjo workshop for twenty-eight years and has toured all over the USA and in four other countries combining banjo workshops and performances. He founded his own Smoky Mountain Banjo Academy music camp in 2004. He is founder of True Blue bluegrass band and Hatfield's Heathens (americana band), having entertained at festivals, concert venues and special events around East Tennessee for over forty years.
Dave Eggar is a product of the renowned Julliard school of music. He was a child prodigy, appearing at Carnegie Hall at age fifteen on piano. Long before Dave was renowned as a world class cellist, he was writing, performing, and recording with Amy Lee and Evanescence, playing on Coldplay's #1 smash "Viva La Vida," touring with American Idol winner Phillip Phillips and directing local symphony orchestras on tour with the supergroup Foreigner, he quietly launched a solo career as a composer/pianist, releasing the solo piano albums Serenity (1998) and Angelic Embrace (2002). He has four solo albums and has contributed to a dozen Grammy – nominated projects. He is a highly sought-after recording artist in the New Age community. Sidelined from his whirlwind road and New York City studio career during the pandemic lockdown, Dave moved to Bristol, TN and stays booked at a recording studio there, remotely recording and arranging orchestral scores, commercials, and album overdubs. He is probably one of busiest cellists on the planet.
Rusty Holloway is from Knoxville, TN. He has been a professional bass player since the age of sixteen, beginning his career as a sideman backing such artists as The Tams, The Platters, The Drifters, The Coasters, Little Anthony, "Fats" Domino, Martha Reeves, Percy Sledge, along with many regional rhythm and blues, country, society, bluegrass, and gospel groups. He toured for several years with jazz legend, Woody Herman. In the acoustic/bluegrass world he has recorded with Beppe Gambetta, John Carlini, Don Stiernberg, Steve Spurgin, the Kruger brothers, Kenny Kosek and many more. He spent thirty-five years as a university bass teacher and studio orchestra conductor, a clinician in many major university programs, and for several years was a highly sought-after studio musician in New York City.
Garrett and Gavin Gregg fill out the ensemble. They are also from Knoxville, TN. On guitar and mandolin respectively, these undiscovered brothers are among the best acoustic pickers anywhere. They both have totally original approaches to their instruments. Garrett is also a masterful banjo player. Garrett currently performs with Jack Hatfield's True Blue bluegrass band, and Gavin performs with Redd the Band among others.