THANKS TO ATTENDEES, GUEST INSTRUCTORS AND STAFF FOR HELPING US CELEBRATE THE 25 YEAR ANNIVERSARY OF SPBGMA WORKSHOP.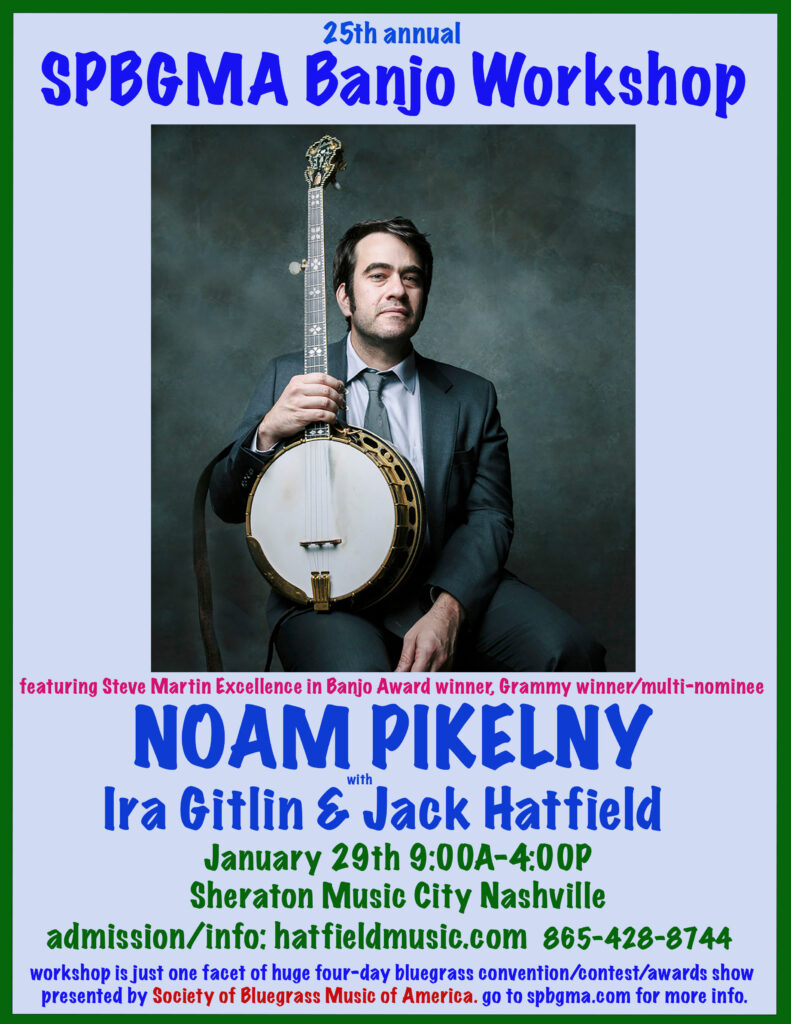 | | | |
| --- | --- | --- |
| SPBGMA BANJO WORKSHOP 2023 – MORNING ONLY | | |
| SPBGMA BANJO WORKSHOP 2023 – AFTERNOON ONLY | | |
| SPBGMA BANJO WORKSHOP 2023 – FULL DAY | | |
The 48th Annual SPBGMA Bluegrass Music Awards and 39th National Convention and Band Championship will be held at the Sheraton Music City Hotel, Nashville, TN on January 26-29, 2023.
The SPBGMA Banjo Workshop 2023 will be held on Sunday, January 29, 2023, from 9:00 am to 4:00 pm (CST). The workshop instructors will be Noam Pikelny, Ira Gitlin and Jack Hatfield.
SCHEDULE
BEGINNER/INTERMEDIATE – 9:00 to 10:30 – Jack Hatfield
INTERMEDIATE/ADVANCED – 10:30 to Noon – Ira Gitlin
LUNCH – Noon to 1:00 (includes informal jam for all)
BANJO SETUP – 1:00 to 2:00 – Noam Pikelny and Jack Hatfield
ADVANCED – 2:00 to 3:30 – Noam Pikelny
FACULTY JAM – 3:30 to 4:00 – Noam Pikelny, Ira Gitlin and Jack Hatfield
Questions? Email jack@hatfieldmusic.com
Noam Pikelny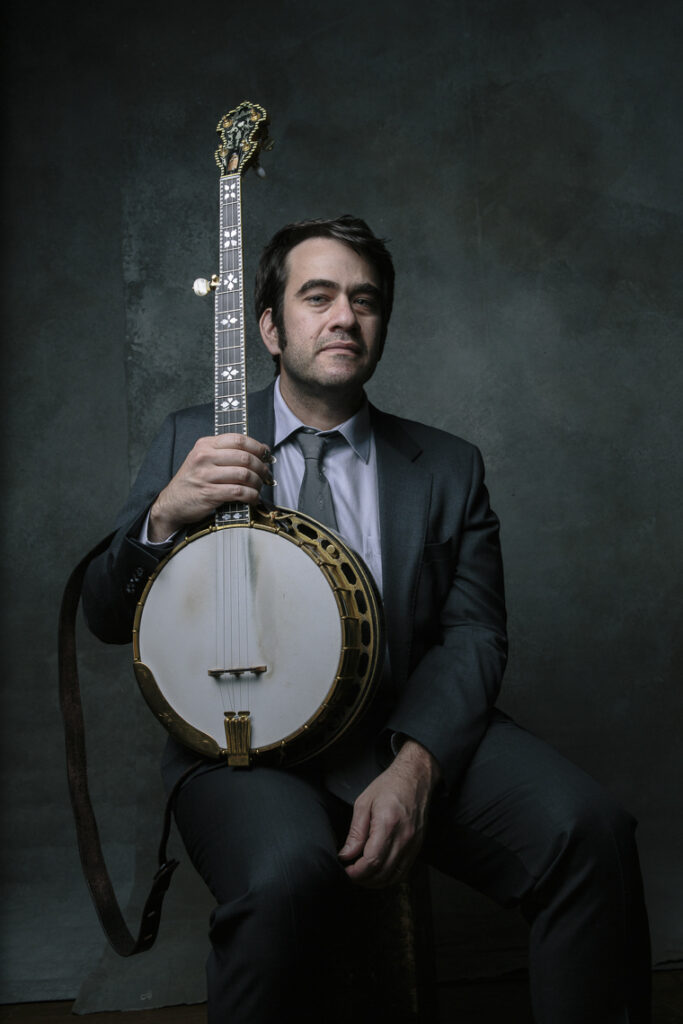 NOAM PIKELNY has emerged as the preeminent banjoist of his generation. He is a founding member of Punch Brothers, a 3-time Grammy Nominee and was awarded the first annual Steve Martin Prize for Excellence in Banjo and Bluegrass in 2010.
Noam started playing banjo when he was 8 years old. He took lessons at Chicago's Old Town School of Folk Music. In high school, he began studying with Greg Cahill of the Chicago bluegrass band The Special Consensus. Pikelny was in Leftover Salmon from 2002 until leaving in 2004 to play in the John Cowan Band from 2004 to 2006 – playing on the band's "New Tattoo" record, just before the formation of Punch Brothers in that same year. Chris Thile of Nickel Creek was planning to form a string quintet, but did not know what direction he wanted to take it, except that he wanted it to include fiddler Gabe Witcher. After Thile had a jam session with Witcher, Pikelny, bassist Greg Garrison and guitarist Chris Eldridge, he decided he wanted the band to be a quintet. The band was called "The How to Grow a Band" in 2006 when they were the backing band on Thile's solo release How to Grow a Woman from the Ground, as well as the following supporting shows. After on and off touring throughout 2007 coinciding with Nickel Creek's Farewell (For Now) Tour, the band's name was changed to the "Tensions Mountain Boys" briefly, and subsequently to Punch Brothers (borrowed from a short story by Mark Twain). Punch Brothers released their first official album as a band, Punch, on Nonesuch Records on February 26, 2008.
Pikelny was the recipient of the 2010 Steve Martin Prize for Excellence in Banjo and Bluegrass. On November 5, 2010, he appeared on Late Show with David Letterman playing a comedic version of "Dueling Banjos" alongside Martin, and later performed with Martin and Punch Brothers. Pikelny's 2011 album Beat the Devil and Carry a Rail was nominated for Best Bluegrass Album in the 2013 Grammy Awards.
In 2014 at the International Bluegrass Music Awards he was named banjo player of the year by the International Bluegrass Music Association, an award that he also received in 2017. He also received the album of the year award for Noam Pikelny Plays Kenny Baker Plays Bill Monroe – the same album that would be nominated for "Best Bluegrass Album" at the 57th annual GRAMMY® Awards in 2015. In 2019 Punch Brothers won a Grammy Award for best Folk Album for their album "All Ashore." A native of Skokie , Illinois, Pikelny currently resides in Nashville, Tennessee.
Ira Gitlin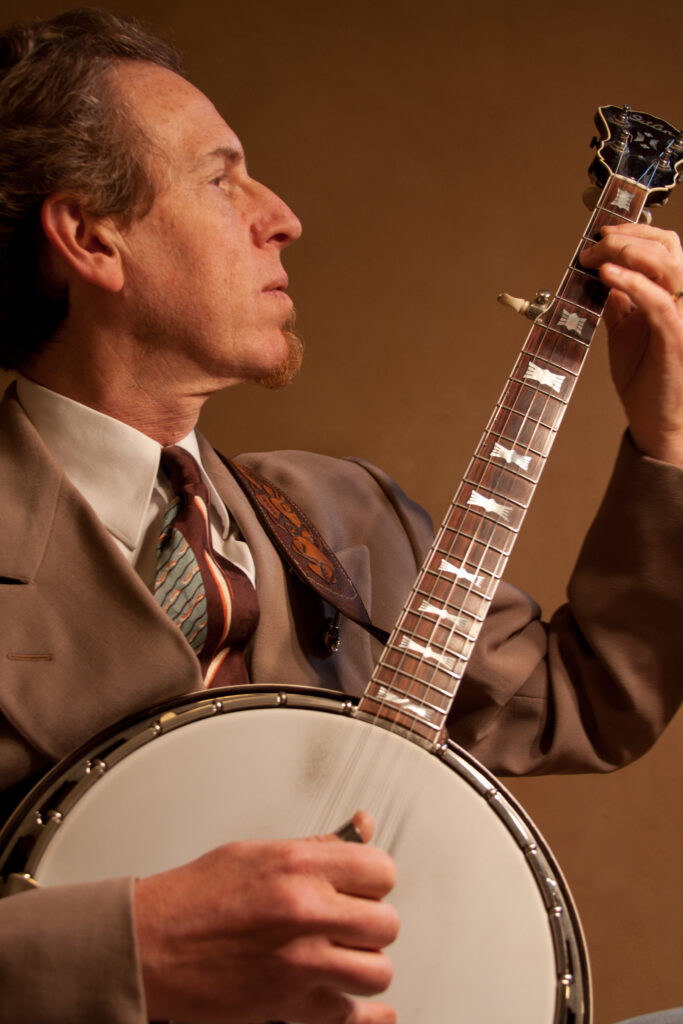 IRA GITLIN, a native of New York City, is widely known and respected in Washington-Baltimore bluegrass, folk, and roots-music circles as a versatile multi-instrumentalist, teacher, and writer. A former National Bluegrass Banjo Champion and multiple Wammie award winner, Ira has worked with such nationally known performers as Bill Harrell, the Johnson Mountain Boys, and Peter Rowan, and has played on over two dozen recording projects. He can be seen performing frequently with the Blue Moon Cowgirls, Karen Collins & the Backroads Band, the Oklahoma Twisters, Dede Wyland, and other D.C.-area artists.
In addition to numerous festival workshops, Ira has taught at the Maryland Banjo Academy (1998, 2000, and 2002), the Swannanoa Gathering (2001-3), the Augusta Heritage Workshops (2004-9), Pete Wernick's Jam Camps (2003-2010), the Grey Fox Bluegrass Academy for Kids (2000-2010), and the Kids' Academies at the Gettysburg Bluegrass Festival (2003-2010) and the Joe Val Memorial Festival (2004-10).
Ira has written about bluegrass music in the pages of Bluegrass Unlimited, Banjo NewsLetter, and Bluegrass Now, and he has contributed liner notes to several commercial recordings. He has lectured on the history of bluegrass for the Smithsonian Associates, and in 2005 he delivered a paper ("The Parking-Lot Vernacular") at the world's first academic symposium on bluegrass.
Jack Hatfield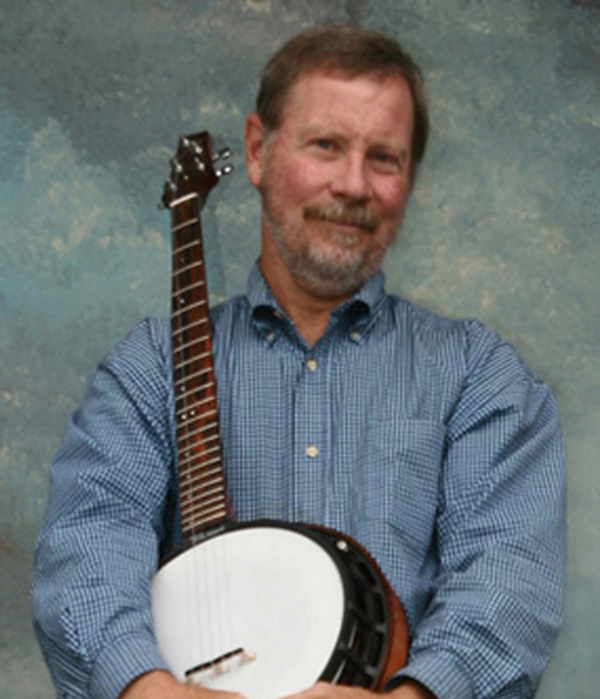 SPBGMA BANJO WORKSHOP DIRECTOR
JACK HATFIELD has been picking banjo since he was 17 years old. Jack's first "big break" was when he started writing as a columnist for Banjo Newsletter magazine in 1976. He wrote the Scruggs Corner column for five years, analyzing the style of the father of bluegrass banjo. The sixty tablatures and analytical comments he wrote while authoring this column still today constitute the most comprehensive and accurate collection of Earl Scruggs transcriptions anywhere. Jack then wrote the Beginner's Corner column for seven years, and for twelve years authored a column called Concepts and Systems which attempted to de-mystify music theory, present alternative banjo techniques, discuss difficult and seldom-taught topics such as arranging and composition, and present other "big-picture" concepts relating to music applied to the five-string banjo.
Jack has written several highly acclaimed banjo instruction books, published by his own company Hatfield Music and for Mel Bay Publications, the largest publisher of stringed instrument instruction books in the world.
Jack was on the faculty of very first banjo camp, the Tennessee Banjo Institute in 1988. Since then he has been Bluegrass Director of all three of Banjo Newsletter's Maryland Banjo Academys and the Nashville Academy of Traditional Music. He has been director of the banjo workshop at the SPBGMA (Society for the Preservation of Bluegrass Music of America) Bluegrass Convention in Nashville for twenty-three years. Just a few of the past instructors include Alison Brown, Noam Pikelny, Gary Davis, Richard Bailey, James McKinney, Mark Pruitt, Tom Adams, Jason Burleson, Butch Robins and Bill Evans. Jack has gleaned from all these great artists insights and teaching methods he applies to his own classes.
In 2006, Jack established his own Smoky Mountain Banjo Academy near Gatlinburg, TN, which was held in conjunction with Five-String Fest in 2014. In 2015, Jack embarked on a big renovation project and moved his camps into the Hatfield Music Barn adjacent to his shop overlooking Pigeon Forge.
Please be mindful of COVID-19 safety. The workshop site will be configured according to safe-distance guidelines.