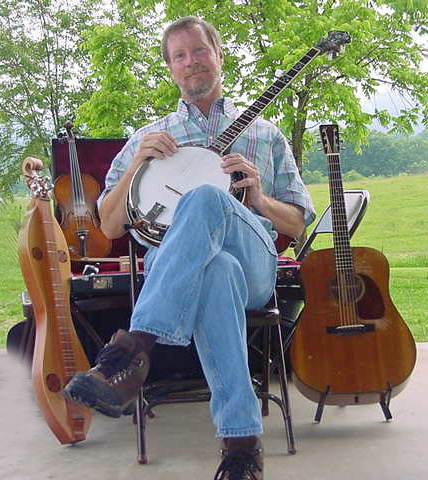 Bookings
Jack Hatfield taught bluegrass instruments in Broadway Sound for seventeen years and performed on WNOX radio's Saturday night Barn Dance before moving to Pigeon Forge to perform at Dollywood and Dolly Parton's Dixie Stampede. He performed locally with mandolin great Red Rector and worked with Ava Barber and Dick Dale at their Starlight Jamboree theater in Pigeon Forge. Jack wrote a column for Banjo Newsletter Magazine for thirty years and still contributes occasionally. He has published over twenty-five instruction books for Mel Bay Publications and his own Hatfield Music. He was invited to be on the faculty of the very first acoustic music camp, the Tennessee Banjo Institute in Lebanon TN in 1988. Since then he has taught banjo workshops all over the USA and in four other countries and founded his own Smoky Mountain Banjo Academy in Pigeon Forge.
References
The Inn at Blackberry Farms: Brian Lee, General Manager. 865-380-2086, www.blackberryfarm.com/concierge/services
WDVX Radio/Blue Plate Special: Red Hickey, host. 865-579-8009. redhickey@wdvx.com
Boyd's Jig & Reel Old City, Knoxville: Gina Truitt, Manager. 865-805-1586. gina@jignreel.com
Barley's Tap Room, Old City, Knoxville. Kyle Przbyszewski, jigandreelbooking@gmail.com
RT Lodge: Maryville, Gary Doyle, General Manager, 865-293-6413, gary@rtlodge.com
Blackhorse Pub and Brewery: Alcoa, John Dewey, Manager, 865-561-3855, johndewey@blackhorsebrews.com
Barley's Tap Room/Behind the Barn Concert Series: Maryville. Sarah Pirkle. 865-724-6507
Wild Wing Cafe: Roger Harb/WDXV Radio Booking Agent. 865-898-9784. rogerharb@bellsouth.net
City of Knoxville: Aaron Browning, Director of Parks and Recreation. 865-215-1719. abrowning@knoxvilletn.gov
Shamrock Festival: East TN Kidney Foundation. Katie Martin, Director. 865-288-7351. admin@etkidney.org
Forest Brook Special Events: Mary McCormick, Entertainment Director. 865-719-3182
Daddy Mac's Restaurant/Bar: Roger Harb, WDVX Booking Agent, 865-898-9784, rogerharb@bellsouth.com
Oakey's Sports Grill, Oak Ridge: Len Hart, 865-294-5938, lhart26@live.com
The Listening Room Cafe, Sevierville: Brian O'Shea, tlrbooking@listeningroomcafe.com, 615 245-6272.
Dancing Bear Lodge, Townsend: Houston Oldham, Director of Operations. info@dancingbearlodge.com 865 448-6000
Finn's Irish Restaurant and Tavern, 9000 Kingston Pike, Knoxville; Jon Ferrie, owner/operator https://www.finnstavern.com/blank-3 561-236-3201
RiverView Family Farm Summer Concert Series, 12130 Prater Lane, Knoxville: Rachel Semanski-Williams 865 603-9347